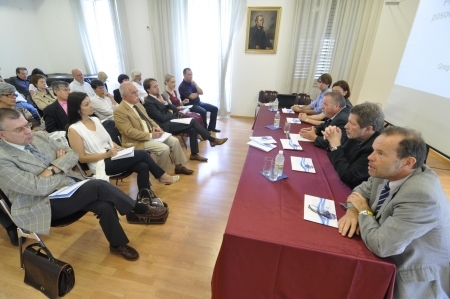 New significant resources for understanding our organisation
At the Gregorčičeva dvorana hall in Trieste, the Slovenian Cultural and Economic Association presented its refurbished website and the new trilingual brochure (in Slovene, Italian and English). The press-conference was attended by the Minister for the Slovenians Abroad dr. Žekš, the Consul of the Republic of Slovenia in Trieste Bojana Cipot, the Senator Tamara Blažina, the Member of the Regional Council Igor Gabrovec and SSO Provincial President Igor Švab.
SKGZ s President Rudi Pavšič underlined the importance of these new resources, which will enable a better understanding of SKGZ s activities, especially among young people. A poll assigned by SKGZ to the Slovenian Research Institute has demonstrated, that young people poorly know the association and the organisational structure of the minority in general, so SKGZ s management decided to act. The website, which has been projected by Rado Jagodič and designed by Dejan Kozina, contains, among other materials, Italian, Slovenian and European laws concerning our minority. The brochure, edited by Martin Lissiach, contains basic information about SKGZ, the Slovenians living in Italy and the member organisations, which help the reader understand the dimension of this umbrella organisation and its historical roots in our region.
The presentation represented also an opportunity to assess some recent developments. President Rudi Pavšič believes, that the results of the recent administrative elections and referenda could pave the way for some changes, that will positively affect the Slovenian minority and its relationships with Slovenia. Pavšič highlighted the victory of the center-left political coalition at the municipal elections in Trieste and the election of Iztok Furlanič as President of the Municipal Council of Trieste. Moreover, SKGZ s President underlined the importance of the recent meeting attended by SKGZ and SSO representatives in Rome with the Undersecretary of the Italian Government Alfredo Mantica. Both umbrella organisations will soon contribute to shape the Body of the Slovenian Minority which is currently being formed and will operate within the Italian Government.
Pavšič also congratulated Slovenia for its 20th independence anniversary and underlined the possibility that Slovenia could officially recognise the Slovenian umbrella organisations in its neighbouring countries. As for the internal organisation he stressed the need to create better work conditions, improve socialisation and integration. In this context, following the example of Gorizia s KB Centre, similar centres are to opened in Trieste and Cividale too. Individual memberships are also of utmost importance for SKGZ and the results so far offer some grounds for optimism.
In his opening speech, Minister Žekš confirmed that Slovenia supports the Slovenians in Italy and particularly welcomes those events that bring something new. Personally, he does not oppose the official recognition of the umbrella organisations by the Republic of Slovenia, but he believes it is more important to define how to actually deal with them. In his view, we should work together to find new paths and new solutions for the numerous open issues.